Buying an Older Home vs. a Newer Home: Which is Better?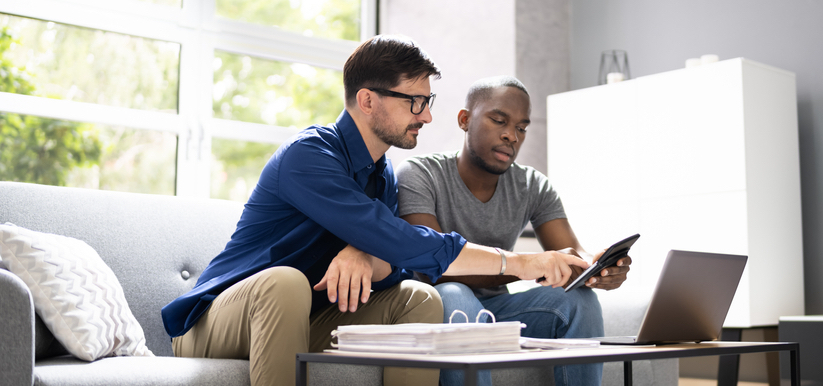 Buying a home is a huge investment at any stage in life, whether it's your first time or you're ready to sell your existing home and make a move. As you begin your home search, you'll likely see two potential filters to sort by: existing or new construction. In addition to impacting personal preferences, the age of your home also affects how much you'll pay to buy the home today, as well as how much you may need to pay on maintenance and repairs in the future.
Buying an older home
The age of an "older" home can vary a lot. If you live in an established area, you could potentially find historic homes that are 100 years or older. But even a home that was built 10 years ago can be considered older, especially since certain appliances and other systems may be reaching the end of their life span after a decade.
Here are the top advantages and disadvantages to think about as you begin to consider an older home for purchase.
Pros
Unique architectural styles. Older homes come in a range of styles based on the period they were built in. If you love history and one-of-a-kind details, you may prefer a home with a bit of history. Depending on where you live, you could tour mid century modern, craftsman, Victorian, saltbox homes, or many more.
History of appreciation. When you buy a home in an existing neighborhood, you can track the price appreciation over the span of years and potentially even decades. This gives you an idea of whether or not the home is a good financial investment, whereas new homes don't have that track record of success.
Established landscaping. Older homes usually have lush trees and shrubs in both the yards and throughout the common areas. You'll be surrounded by greenery and may even have some sought-after shade in the yard; plus, established plants increase privacy. New neighborhoods have smaller trees and shrubs that may take several years to really fill out.
Closer to central locations. Many older neighborhoods are located closer to central city locations, since newer construction sites typically must be built on unused land farther away. That means you could have shorter commute times to both work and leisurely activities if you find an older home in a convenient location.
Cons 
Reduced energy efficiency. Purchasing an older home could result in higher utility bills since the materials used may not provide as much insulation as a new build. Your HVAC systems themselves may also be less efficient if older models haven't been updated recently.
Greater need for maintenance. Be prepared for more maintenance and renovation with an older home. How much you'll need to spend depends on how well the previous owner has maintained the home. Pay careful attention to your inspection report so you know what to expect to pay for in the next few years.
Smaller layout. An open concept floor plan is more common in newer homes than older ones. You're likely to see more closed-off areas and smaller square footage when shopping in a more established neighborhood.
Buying a new home
Walking into a newly constructed home is exciting, especially if you love the idea of being the first family to make memories there. You may be touring a newly built neighborhood or thinking about overseeing your own new-construction project; but before you do, consider these pros and cons.
Pros
Fewer near-term maintenance expenses. Since a freshly built home has all new systems, appliances, and materials, you likely won't need to worry about maintenance costs for at least a few years.
Larger floor plans. Newer homes are often built to include large kitchens, open concept rooms, and plenty of space to entertain. You may even find options with a home office or bonus rooms for kids to hang out in.
Newer design aesthetics. Older houses are likely to need a face lift, whereas a newly constructed home might look like it's straight from Pinterest. You'll find the latest home trends, and you may even get to make some design decisions if you choose a house before it's finished being built.
Latest safety codes implemented. Building codes are always changing to keep homes as safe as possible. So not only can you feel safer in a newer home, you may even save on your homeowners insurance policy.
Cons 
Lower inventory available. There are significantly fewer new construction homes on the market compared to existing homes. This can make the purchasing process even more competitive and you may not be able to choose the home with all of your favorite finishes or on your preferred lot.
More expensive purchase price. The soaring cost of building materials in the last two years means that new homes are priced much higher than existing homes of a similar footprint. So while you may not spend as much on maintenance costs, you may have a higher mortgage payment.
Farther away from central locations. New subdivisions are usually built on previously unused land (at least in terms of housing). In order for developers to find and affordably purchase that land, they typically need to go farther away from city centers and other centralized suburban areas. This could mean longer commutes and fewer amenities nearby.
Which is best for you?
There's no right or wrong answer for whether you should buy a new house or an older one. First, think about your preferred location and your budget and see what's available. Also take a look at your priorities. What kind of space do you need for the amount of time you plan to spend in your next home? What kind of style do you like? Does the idea of a DIY project excite you, or give you anxiety?
Next, look at current listings and attend a few open houses to get a sense of what's available at your price point and how you emotionally react to these very different types of homes. All of this internal work can quickly help you determine the best style of home to buy.
Bottom line
As you navigate the homebuying process, remember that houses of all ages need homeowners insurance. Use Matic to compare coverage options and find the most affordable policy with a fast and free customized quote.
This Blog/Vlog/Website is made available by Matic Insurance Services, Inc. for educational and informational purposes only. Matic makes no representation or warranty of any kind, express or implied, concerning the accuracy, completeness, or suitability of the information contained herein. Insurance products and services described may not be offered in all states. Eligibility for insurance will be determined at the time of application based upon applicable underwriting guidelines and rules in effect at that time. A Matic Insurance Agent can offer you practical guidance and answer questions you may have before you buy.